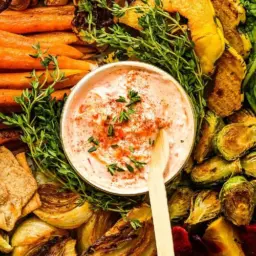 Roasted Autumn Vegetables With Harissa Yogurt Dip
Ingredients
2

medium beets, washed

2

small fennel bulbs, fronds removed and bulbs quartered

1

small delicate squash, seeded and sliced into 1 inch thick semi-circles

1

large red onion, peeled and sliced into 1 inch thick rounds

1

pound

baby carrots

8

ounces

Brussels sprouts, halved

2

teaspoons

ground cumin

1

teaspoon

smoked paprika

1/2

teaspoon

ground coriander

1

teaspoon

Kosher salt

2

tablespoons

olive oil

2

cups

low-fat Greek yogurt or fat level of choice

4

tablespoons

Harissa paste

1/2

teaspoon

smoked paprika

Juice of 1 lemon

3

teaspoons

Kosher salt

8

ounces

whole grain pita chips
Instructions
Preheat oven to 425 degrees. Wrap beets in foil, place on a small baking sheet and place in the oven immediately.

Spray two large, rimmed baking sheets with olive oil or cooking spray. Arrange fennel, squash, red onion, baby carrots and Brussels sprouts on baking sheets and set aside.

In a small bowl, whisk together cumin, 1 teaspoon smoked paprika, coriander and 1 teaspoon Kosher salt. Add olive oil and stir to combine. Drizzle mixture evenly over vegetables on baking sheets.

Place baking sheets in oven and roast vegetables, turning once for 30 to 45 minutes, or until golden brown and cooked through.

While vegetables are roasting, combine Greek yogurt, harissa paste, 1/2 teaspoon smoked paprika, lemon juice and remaining 3 teaspoons of Kosher salt in a bowl and stir until combined.

When vegetables are cooked through, remove baking sheets from oven and allow to cool enough to handle. Remove beets from foil and peel under running water, then quarter them.

Transfer yogurt mixture to a serving bowl and place on a platter. Arrange vegetables and pita chips around yogurt. Serve immediately.

Season to taste with salt and pepper and serve immediately with toasted 7-grain bread.
Notes
Recipe courtesy of National Dairy Council. For more recipes, visit www.usdairy.com.