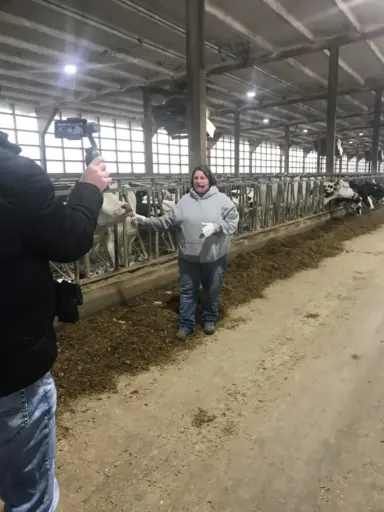 You won't find a dairy farmer more dedicated to connecting with students to showcase dairy's farm-to -table story than Heidi Zwinger, herd manager at Boadwine Dairy near Baltic, which is home to over 2,000 cows and 1,800 heifers and calves. Heidi grew up on a dairy farm, and as part of her role as herd manager she conducts outreach to students and consumers alike through open houses, farm tours and Ag United's adopt-a-farmer program.
"As more and more kids and adults become further removed from agriculture, sharing our farm story needs to become a bigger priority," says Zwinger. "Often times, we want someone else to do it for us, but that is not how you get a genuine connection."
Because it isn't always realistic to bring entire classrooms out to the farm, Zwinger feels it is important to bring the farm into the school building. That's why she graciously volunteered to be the first farmer to partner with Midwest Dairy to host a LIVE virtual farm tour which reached more than 1,200 students in South Dakota, North Dakota and Nebraska. Heidi has also worked with Sonia Sotomayor, a Spanish Immersion Elementary School in Sioux Falls that teaches native English speaking students a second language. As part of this outreach, she partnered with Noemi Vargas from Boadwine Dairy to provide videos to students in both Spanish and English.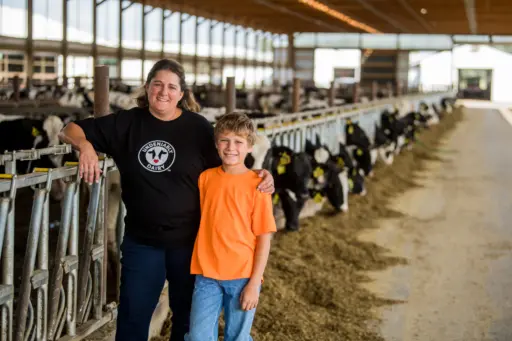 Heidi's passion for taking care of the cows so that they produce high-quality milk shines through in all of her outreach efforts. "It's so important to show people how comfortable the cows are on our farm. From temperature-controlled barns to sand bedding, it makes a huge impact when people can actually see the cows relaxing and just being cows."
To learn more about Heidi, check out this blog from South Dakota Soybean's Hungry for Truth.
*Photos featured in this article were taken prior to March 2020 before mandatory mask/social distancing mandates were implemented.