The Dairy Experience and Agricultural Leadership Program (DEAL) members met this summer for the final phase of the 18-month leadership opportunity, focusing on leadership opportunities within checkoff and offering media training. The presentations and experiences during this phase helped DEAL members learn more about the Midwest Dairy regional governance structure provided an opportunity to practice their public speaking skills.
On the first day, Charles Krause, Chair of Midwest Dairy, and Molly Pelzer, CEO of Midwest Dairy, welcomed the DEAL members, and the group participated in the Midwest Dairy corporate board meeting. Because they attended division board meetings last summer, it was beneficial for them to learn more about our corporate board this summer. Following the board meeting, they heard from Abby Kornegay, Issues and Engagement Manager with the Animal Ag Alliance, who discussed animal rights activists, tactics they use to promote their anti-animal agriculture agenda, and how farmers can build trust in their community and with consumers. At the end of the day, the DEAL members had the opportunity to network with corporate board members at a supper.
On day two, DEAL members participated in media training facilitated by Midwest Dairy's corporate communications partner, Padilla. Padilla provided tips, tricks, and best practices for handling media interviews. The DEAL members then practiced these new skills through mock newspaper and TV interviews. One farmer said, "I enjoyed the media training and learning some of the tips for better presentations that Padilla put forward." The group also participated in a farm tour at Dakota Line Dairy and had some fun while axe throwing during the evening events.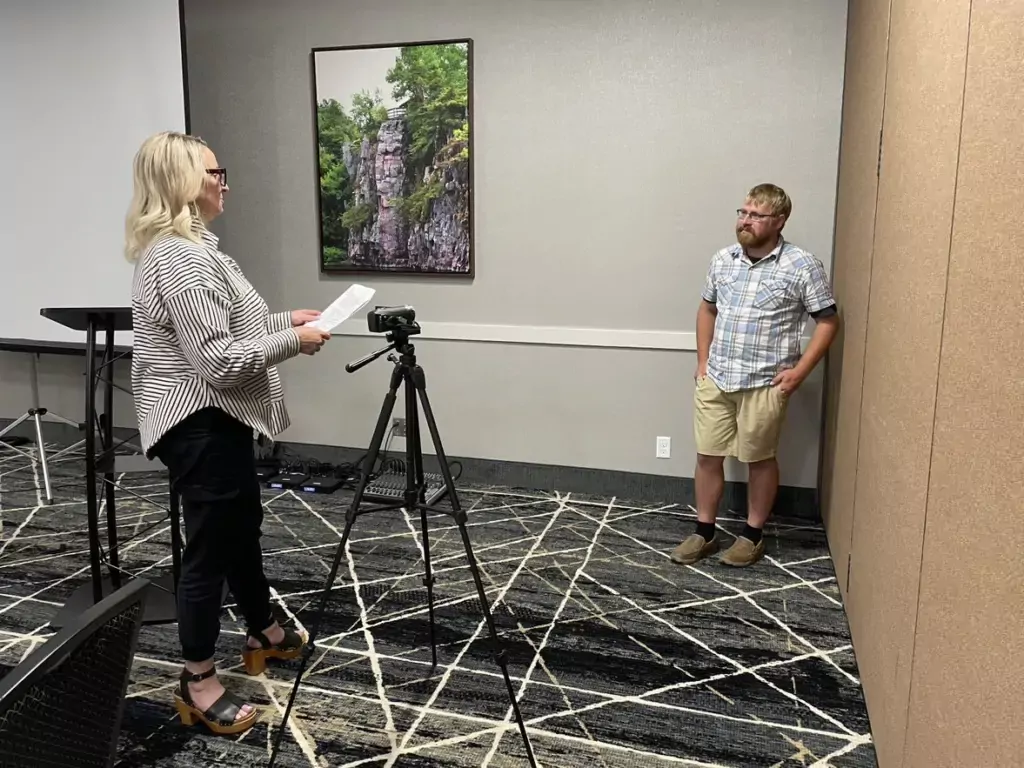 On the final day, DEAL members heard about the power of relationships from Aaron Putze, Chief Officer of Strategy and Brand Management for the Iowa Soybean Association. His presentation left the group feeling motivated and inspired. DEAL members Paige Roberts and Kevin Borst shared more about their families, farms, hobbies, and interests. The meeting concluded with a group discussion about the program. Post-survey results showed positive feedback from the farmers, with one farmer commenting, "I think that DEAL has given a broader perspective for the ways that checkoff dollars are being used." Another farmer said, "I enjoyed meeting other young dairy farmers across the Midwest and becoming friends with them and meeting so many strong leaders within agriculture. It was awesome to have the opportunity to meet and talk with the speakers we had at each phase."
On behalf of Midwest Dairy, thank you to the graduates from DEAL Class 2. Your willingness to learn and passion for the dairy industry is contagious, and we are incredibly eager to see what these industry leaders and advocates will achieve. We appreciate your time and commitment to the program!
Congratulations to these Class 2 DEAL members:
Courtney Lintker, IL
Ray Hildebrandt, IL
James Goldsmith, IA
Dan Venteicher, IA
Nicole Engelken, IA
Paige Roberts, MN
Kevin Borst, MN
Lindsey Borst, MN
Elle Tibor, MN
Natalie Barka, MN
Stacy Rethman, KS
Jessi Sayers, NE
Cole Hoyer, SD
The application for DEAL Class 3 will open this fall, If you are interested in this program or would like to suggest this opportunity to young dairy leaders you know, please click here.