There are many opportunities for young dairy enthusiasts to get involved, especially during the summer months. From volunteering at consumer-facing events to attending conferences, Midwest Dairy is proud to offer these opportunities and encourage young dairy leaders to get involved.
South Dakota
South Dakota Dairy Ambassadors engaged with many Generation Z (Gen Z) youths and their families at the dedicated "Dairy Day" in the Discovery Barn during the Sioux Empire Fair. Many attendees stopped at the Sioux Empire Fair Dairy Bar and were greeted by new signage with the slogan "Fuel Your Fair Fun." The Dairy Ambassadors had fun interacting with fairgoers by inviting them to play the Undeniably Dairy Plinko game and answer dairy-related questions to earn a prize. Two milking demonstrations also enhanced consumer awareness of the tremendous level of animal care dairy farmers provide their livestock daily.
More than 200,000 people visit the fair each year, with many visiting the Dairy Bar, making the new messaging and the Dairy Ambassadors' involvement an eye-catching way to build trust. The Dairy Bar and Undeniably Dairy were also featured in a morning news segment by Sioux Falls ABC affiliate Dakota News Now.
Nebraska
Other young dairy leaders in Nebraska had the opportunity to attend the 52nd Nebraska Agriculture Youth Institute (NAYI) held in Lincoln, Nebraska, this past July. Midwest Dairy was also in attendance to share the story of dairy and build advocacy with young agriculturalists.
During the dairy production session, Melisa Konecky of Beauty View Dairy Farm presented to more than 250 delegates consisting of high school juniors and seniors and 21 college-aged counselors. This young dairy farmer shared her family's dairy story and explained how their operation has shifted to be more sustainable. Tracy J. Behnken, Midwest Dairy farmer relations and communications manager in Nebraska, presented insights into dairy check-off and promotion during the dairy commodity board session. The session included testing the dairy checkoff knowledge of the delegates using the inactive spin wheel and encouraging participation with dairy prizes.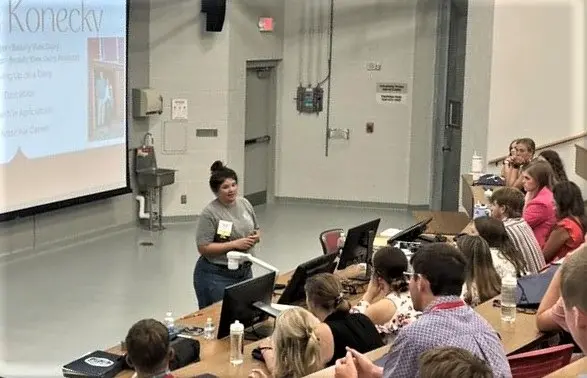 The Nebraska Department of Agriculture coordinates NAYI with the help of the Nebraska Agricultural Youth Council, comprised of college-aged students. It features speakers, workshops, agricultural education, networking with peers and industry leaders, professional development opportunities, and leadership experience. The event is held at the University of Nebraska–Lincoln's East Campus. NAYI is made possible through numerous donations from agricultural businesses, commodity groups, and industry organizations.