About the Program
The Iowa Dairy Princess represents Iowa dairy farmers at events across the state. As a goodwill ambassador, the Iowa Dairy Princess connects with consumers to share information about the care and dedication dairy farmers take in producing wholesome, nutritious dairy foods for all to enjoy.
Princess Contest
The Iowa Dairy Princess is crowned each year in August coinciding with activities at the Iowa State Fair in Des Moines. The Iowa Dairy Princess and Alternate are selected based on an application, answers to essay questions, interview skills, and ability to advocate for dairy farmers. Once chosen, winners will spend their year serving as the official ambassador for Iowa's dairy farmers advocating and educating on their behalf. They will be making public appearances that include media interviews, classroom visits, dairy events and fairs and help educate the public about the dedication dairy farm families have to producing wholesome products for consumers.
The 2023-2024 Iowa Dairy Princess Contest was held August 8-9, 2023 in Ankeny with the coronation on August 9 at the Iowa State Fairgrounds.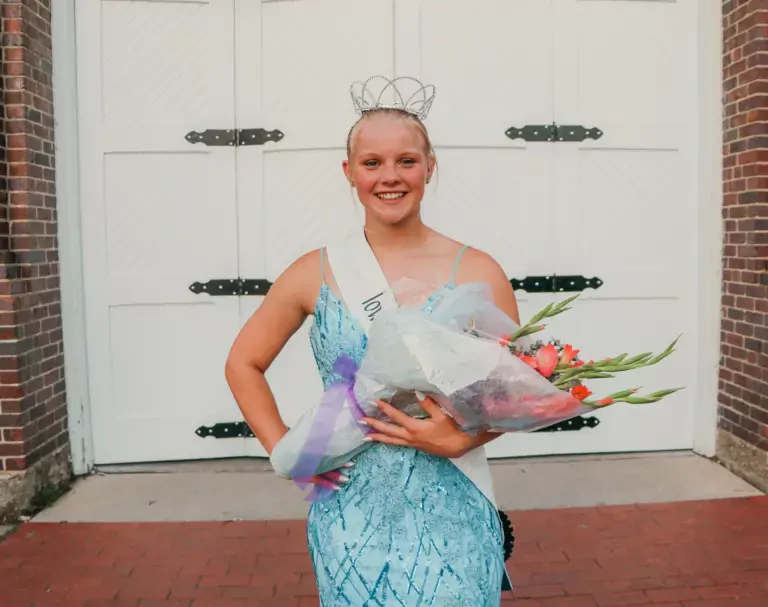 Iowa Dairy Princess
Ashley Elsbernd was crowned the 70th Iowa Dairy Princess during an evening ceremony at the Iowa State Fairgrounds in Des Moines on Wednesday, Aug. 9. There, she represented Winneshiek County. Ashley is the daughter of daughter of Peter and Kristi Elsbernd. She will be a junior at the University of Wisconsin-Platteville this fall where she studies dairy science and agriculture business. Ashley was also recognized for her performance in the public speaking portion of the contest.
Ashley will spend the year serving as a goodwill ambassador for Iowa's dairy farmers. Throughout her year-long reign she will make public appearances to connect with consumers and help them understand the dedication of dairy farm families to their cows, their land and the milk they produce. Her reign will continue through the 2024 Iowa State Fair.
Learn More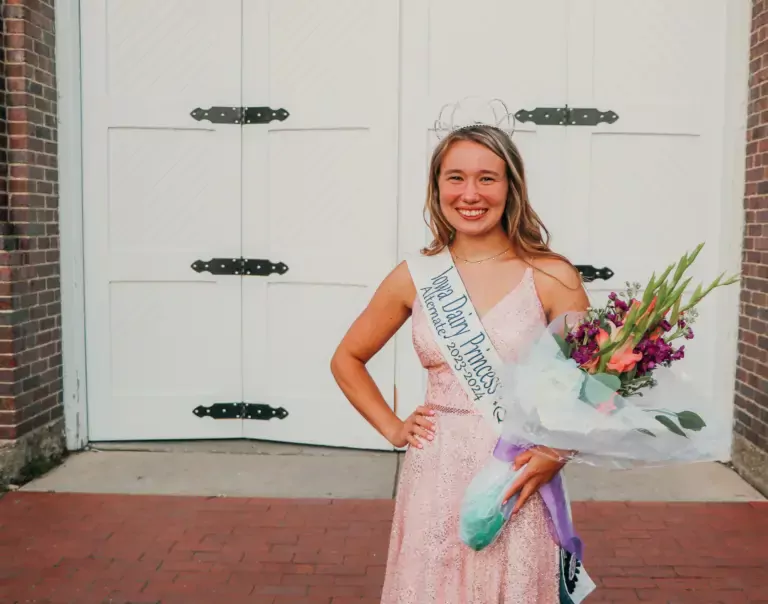 Iowa Dairy Princess Alternate
Elizabeth Fossum was named Iowa Dairy Princess Alternate and will share duties with the Princess. She is the daughter of Kevin and Julie Fossum of Waterville. She represented the Allamakee County and will be a freshman at University of Wisconsin-Platteville studying agriculture business. Elizabeth was also named Miss Congeniality in the contest.
She is serving as a goodwill ambassador for Iowa's dairy farm families, sharing information about dairy farming with audiences across the state.
Iowa Dairy Princess Application Materials
County/Breed Princess Program Materials
Request a Visit with a Dairy Princess
The Iowa Princess is an ambassador for dairy farmers in her state. She loves sharing information about the role of dairy in healthy eating habits and how dairy farmers care for their cows, community and land.
To request the Iowa Dairy Princess visit your event or classroom, please submit the request form and we will help you connect with the Iowa Dairy Princess.
Request a Princess